Mining in Quebec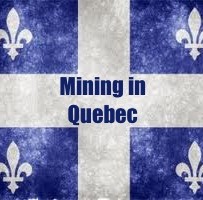 Reasons why mining and exploring in Quebec is so attractive…
Quebec is one of the best mining jurisdictions worldwide. In the Fraser Institute's Survey of Mining Companies 2011/2012 Quebec ranked 5th worldwide.
"Plan Nord" Government supporting $80 billion in investment in mining, forestry, infrastructure over 25 years. Proposals for new road, rail, and port infrastructure.
The Quebec Government rebates 51% of exploration costs in the north, this applies to the Hawk Ridge Project.
Below is an excerpt from INVESTING IN THE MINING SECTOR IN QUÉBEC - January 2012
QUÉBEC AND ITS MINING SECTOR
Québec is the largest province in Canada (1 667 441 km2) and has a population of 8 million people.
Over 34,000 people work, directly or indirectly, in the mining sector. Together, they make up a qualified workforce.
In January 2012, Québec had 24 operating mines and over 250 surface mineral extraction sites.
For the second consecutive year, Québec is Canada's largest producer of metal minerals.
A broad range of minerals is currently produced, including iron ore concentrate, gold, copper, zinc, nickel, niobium, titanium, platinum and cobalt.
Québec has strong potential for further discoveries of currently mined substances and for discoveries of new substances such as strategic metals (lithium, rare earths, tantalum, etc.) and diamonds.
MAIN ADVANTAGES OF INVESTING IN QUÉBEC
Québec is strategically located to the northeast of the United States, close to heavily populated areas and major industries, and also benefits from access to Europe and Asia via its deep-water ports.
Québec already possesses key infrastructures, especially in the area of energy supplies, and the Québec government has made a commitment to develop more infrastructures as part of the Plan Nord, released in May 2011.
The diversification of the mineral base to include the potential for new substances is already under way, and is promoted in the Plan Nord and the Québec Mineral Strategy.
Québec's tax system is competitive for companies, and its policies are stable and well adapted.
According to the Fraser Institute, Québec ranks among the top 10 jurisdictions world- wide for mineral exploration activities.
In Québec, the management of mining rights is computerized and accessible via Internet using the "GESTIM Plus" geomatics application. The system offers instant access to updated data from Québec's register of real and immovable mining rights.
Québec is a leader in Canada and the world in the field of geo-scientific knowledge. The SIGÉOM database, which contains geo-scientific information gathered over more than a century by government and industry, is estimated to be worth C$5 billion.
Québec's mines are operated with a focus on sustainable development, which is attractive to a new generation of workers and investors.
The Québec government supports R&D investment and mineral processing activities within Québec.
Under the Research and Innovation Strategy, the government encourages, supports and facilitates the development of the green technology, electric storage battery and electric vehicle industry.