Overview
Nickel North is a Canadian based explorer focused on defining a Ni-Cu-PGE resource at our Hawk Ridge Project in Quebec.
Hawk Ridge covers 18,000 hectares over a 50 km belt of Ni-Cu-PGE occurrences on tidewater in Quebec.
An immediate target of large tonnage intermediate-grade, with open pit potential, is present in the Hopes Advance area and the Gamma zone.
A second type of target is the high-grade Raglan-style of mineralization is seen at Hopes Advance area, the Gamma zone and the Pio area.
All drill core holes from the 2012 program encountered magmatic sulphide mineralization in the mafic to ultramafic assemblage of rocks.
Preliminary interpretation of the VTEM PLUS survey by Dr. Shore identified 35 new anomalous areas showing highly favourable Ni, Cu, and PGE geophysical responses, with little or no previous work.
Resource modelling is planned to begin on several of the zones during Q4 2012 and is expected to be designed to further define and expand on the new and historical drilling on the property.
Key supplies are planned to be shipped to the project site by sea this fall, a strategy that will reduce costs and permit an early start for the 2013 exploration program.
Feasibility of deep sea port being assessed by Oceanic Iron Ore Corp.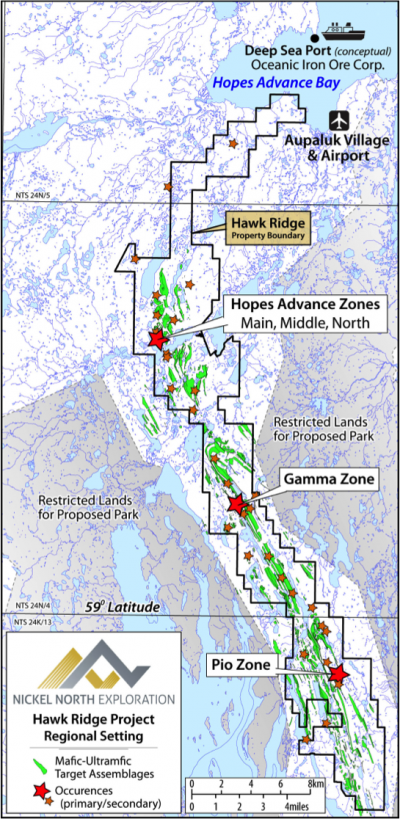 History of Exploration at Hawk Ridge Property
1961 Sogemines discovered several showings and drilled Hopes Advance 5, 6 and 7
1962-1963 Sogemines and Falconbridge drilled and discovered Hopes Advance Main and Schindler zones
1971 Esso drilled 35 holes at Hopes Advance North
1971-1974 Premium Iron Ore, Falconbridge and Lone Star Mining discovered Pio Lake, Fold, Lava and Gabbro showings and conducted drilling and underground test mining at Pio Lake, 6,000 tonnes high-grade ore stockpiled
1987 Riverton Resources conducted geological studies
1988 Dan Larkin staked the Hopes Advance and Pio showings
1992 Phelps Dodge did a short field program on Hopes Advance 5, 6 and 7
1995-1997 Troymin Resources conducted mapping, surface and airborne surveys and drilled 117 holes
1997 Resource calculation completed on several zones (not compliant with NI 43-101)
1998 Metallurgical studies on samples from Hopes Advance Main and Schindler Zones
2001 PGE study by Dr. Jim Mungall, University of Toronto
2003 PGE compilation by Dan Beauchamp
2003 Merger of Troymin and Santoy Resources (now Virginia Energy)
2012 Orient Venture Capital options the property from Virginia Energy
2013 7,300 metre drill programDrill Program; 2014 Initial Resource; 2014 1,000 meter drill program
Technical Reports
Summary report on the Potential for Platinum Group Elements at the Hawk Ridge Property Québec for Troymin Resources Ltd. by D.A. Beauchamp, P.Geol. - June 2001 (PDF, 5.93mb)
NI-43-101 Technical Report for Hawk Ridge Project, Quebec -- April 30,2012 (PDF, 6.38mb)


NI-43-101 Technical Report for Hawk Ridge Project, Quebec -- November 30,2013 (PDF, 6.5mb)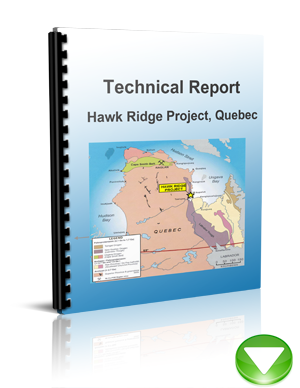 Technical Memorandum to November 10, 214 NEWS RELEASE (PDF, 1.39mb)
Main Zones

There are 29 mineral occurrences over the 50 km long, 18,000 hectare Hawk Ridge Property. Of these occurrences four have been drilled. These are the Main Zones.

Pio Lake Zone
Source: NI43-101 Technical Report for Hawk Ridge Project, Quebec -- April 30, 2012
Located in the southern part of the Hawk Ridge Project, the Pio Lake Zone was discovered in the early 1960s. Pio lake and mine development work was carried out by Falconbridge and its partners until 1974. An adit and drifts were extended for a length of 117 m. Four raises were extended, three of which reached surface where they can be seen as pits on the surface.
The area was drilled extensively in the 1960s and early 1970s but little of the information and none of the core is available. Troymin carried out a short drill program on the zone in 1995 where four drill holes totalled 198.3 m (Figure 12).
In 1973-74 a total of 6437 tonnes of mineralization were mined from underground and open pits from both veins. In the East Vein the remaining resources was estimated at 7260 tonnes grading an average of 6.9% Cu and 0.3% Ni. In the West Vein the remaining resource was estimated at 9662 tonnes grading an average of 6.6% Cu and 3.2% Ni (Lone Star Mining, 1974). No data was included in Lone Star's report to determine the method used to calculate the resource, and none of the parameters used to calculate the resource were described in the report. This historical resource estimate is on the Hawk Ridge Property but the calculation does not conform to the categories used in NI-43- 101 regulations. There are no more recent resource calculations available on the Pio Lake Zone and since the core is no longer available additional drilling would be required to confirm or update the historical resource calculations. A qualified person has not done sufficient work on to the data to classify this historical estimate of mineral resources, this resource should not be treated as a current mineral resource and should not be relied upon. The historical resource estimate is not being treated as current mineral resources or reserves.
The area is underlain by basalt that has been structurally deformed and overturned into a synclinal fold about 1.5 km wide and 4 km long that plunges gently to the south-southeast. The axis of the fold is located about 275 m to the west and the Pio Lake Zone is on the east limb of the fold. A fault extends for at least 2000 m to the south but appears to be truncated by a later northeast- trending structure about 100 m north of the Pio Lake Zone.
The copper and nickel mineralization is present in two lenses that contain veins of massive, semi-massive and disseminated sulphides in folded and faulted basalt, gabbro and pyroxenite that contain occasional bands of schist. The East Lens is about 2 m wide and has a strike length of 46 m on surface. The West Lens is 3 m wide and extends for 60 m. Both zones strike north-northwest ad dip 60- 85°E. Although the zone was drilled a depth of 100 m the 1995 drilling only tested the zone to a depth of 35 m (Figure 13).
There is a distinct difference in the nature of the mineralization of each lens. The mineralization in the West Lens consists of massive, semi-massive and disseminated pyrrhotite, chalcopyrite and pentlandite in a fault-bounded section. In the East Lens the sulphides are represented by disseminated and laminated chalcopyrite-pyrrhotite mineralization in sheared basalt and sulphide-rich iron formation.
The West Lens contains more massive and banded units and contains distinctly more nickel. The West Lens reported an average of 6.08% Cu, 1.43% Ni, 0.05% Co, 15.0 g/t Ag, 0.4 g/t Pt and 1.1 g/t Pd over 2.82 m from a composite sample in drill hole HR 95-03.
The mineralized zone is a fault-bounded lens of pyrrhotite, chalcopyrite and pentlandite in chloritized basalt flows of the Hellancourt Formation. The basalt is cut by several early thrust faults. The West Lens may be part of a larger magmatic copper-nickel zone, possibly related to a sill of ferropicritic composition (Wares and Mungall, 1997). The West Lens may have been tectonically detached by fault movement from a larger zone of magmatic mineralization.
The East Lens appears to have a different origin and may represent an epigenetic hydrothermal copper-nickel mineralization. The mineralization is laminated and parallel to the penetrative schistosity of the basalt but is often folded. The sulphides are rich in copper but contain lower quantities of nickel than in the West Lens. The mineralization contains 530-1800 ppb Pd but low values of platinum (Beauchamp, 2001). The current thought is that the East Lens formed as a result of the emplacement of epigenetic sulphides along the schistosity in the host basalt. The sulphides may have precipitated from hydrothermal fluids that could have been altered as a result of an interaction with the host basaltic igneous rocks (Clark and Wares, 2005).
The East Lens reported 2.4% Cu and 0.07% Ni over 4.7 m, not true thickness from a fault zone of sericitized basalt that contains disseminated sulfides in drill hole HR 95-2. The section of mineralization including disseminated and massive mineralization averages 1.28% Cu and 0.04% Ni over 14.6 m, not true thickness.
Drilling 300 m north of the Pio Lake Zone in 1996 confirmed the presence of massive sulphide mineralization in altered basalt. Drilling in HR 96-73 reported an average grade of 2.72% Cu and 0.32% Ni over 2.28 m, and in HR 96-90 an average of 2.0% Cu and 0.34% Ni over 4.6 m in altered basalts north of the northeast- trending fault.
Additional zones of mineralization in the region are at the Gabbro Zone, about 600 m to the south of the Pio Lake Zone where a composite 0.66% Cu and 0.23% Ni were intersected over 28.6 m in glomeroporphyritic gabbro in HR 96-77 at the contact between peridotite above, and basalt below. The hole east of the fold axis of an overturned syncline drilled into peridotite. The nearby drill hole HR 96-78 was collared into the lower part of the porphyritic gabbro but was not sampled. This mineralization is identical in lithology and style to that described at the Hopes Advance Main Zone and at Schindler disseminated.
Gamma and Schindler Zones
Source: NI43-101 Technical Report for Hawk Ridge Project, Quebec -- April 30, 2012
The Gamma and Schindler Zones are located in the central part of the Hawk Ridge property. The two zones are on strike and about 500 m apart.
The area is underlain by a sequence of basalt, porphyritic gabbro and thin intervals of turbidite sedimentary rocks that have been thrust from the east and that dip steeply to the east. Peridotite has been injected at the contact between porphyritic gabbro and basalt, and appears to form a bulge south of the Schindler Zone where it is brecciated (Figure 14).
The mineralization at the Gamma Zone consists of massive sulphides at the base of porphyritic gabbro in contact with graphitic schist and of disseminated sulphides in the centre and upper part of the porphyritic gabbro (Figure 15).
The massive mineralization consists of pyrrhotite, chalcopyrite and pentlandite associated with the underlying sedimentary units that are occasionally termed iron formation, graphitic schist and turbidite. Composite grades of 4.56% Cu, 1.44% Ni over a near true-thickness of 3.5 m were intersected in HR 96-53 and the disseminated mineralization averages 0.52% Cu and 0.19% Ni over 16.2 m.
The massive mineralization is of probable magmatic origin and the mineralization is continuous both at depth and along strike, where it has been intersected over a surface area of about 60×60 m (Figure 16).
The mineralization is open at depth. To the north and south the massive mineralization appears closed but there is additional potential further north, and to the south where the Schindler Zone is located.
The mineralization at the Schindler Zone is as disseminated sulphides along the upper part of the porphyritic gabbro that has been intruded by peridotite directly above. The mineralization appears to be continuous and an average 0.4% Cu and 0.15% Ni was reported over 10.5 m, not true thickness in drill hole HR-97-102. The massive sulphide interval reported on surface was not intersected at depth (Figure 17).
Analyses for PGEs have not been performed on the core from the Gamma or Schindler Zones. Results from 16 surface rock samples taken by Wares and Goutier (1990) in the area reported 110-1230 ppb Pd and values of 120 and 150 ppb Pt were reported from two analyses.
Hopes Advance Main Zone
Source: NI43-101 Technical Report for Hawk Ridge Project, Quebec -- April 30, 2012
* Historical resource estimates of reserves calculated on the Hopes Advance Main Zone are non-compliant with NI43-101
The Hopes Advance Main Zone is located in the northern part of the property immediately north of Lambda Lake. The zone is underlain by a unit of porphyritic gabbro that dips steeply to the east and lies above a unit of grey siliceous metasedimentary unit 3-15 m thick that contains 2-20% pyrrhotite and 0-1% chalcopyrite. Peridotite, gabbro and basalt in thrust contact with the glomeroporphyritic gabbro are present to the east.
On surface the porphyritic gabbro appears as a gossan about 30 m wide and 800 m long. To the east of the Main Zone an overturned doubly plunging syncline strikes north-northwest. The hinge zone for the double plunging syncline strikes northeast 400 m east of the zone of mineralization (Figure 18).
In 1962 the Main Zone was tested by several channel samples and by two drill holes for a total of 676 m. The Main Zone was further evaluated in 1996-1997 with 15 drill holes for 2922 m. The important intersections from these holes are presented in Table 10.
A consultant performed a historical resource estimate using the drill hole assay data on the Hopes Advance Main Zone and reported 48.4 million tonnes of proven and probable reserves with an average grade of 0.51% Cu, 0.18% Ni and <0.01% Co to a depth of 500 m (Paul, 1997). The calculation was made using assay data from 14 drill holes from the 1996-1997 drilling campaign and from incomplete data in two holes drilled in 1962 and provided a to a depth of about 500 m. The details of this historical resource estimate were described earlier in this report and present three scenarios for open pit operations and four scenarios for underground mining using key assumptions for commodity prices, exchange rates and costs that are no longer valid (Paul, 1997).
The mineral reserve calculations of the Hopes Advance Main Zone are unreliable and undependable because they were carried out prior to the development of the regulations of NI 43-101 and were performed by someone who is not a qualified person. The economic projections are invalid and of little value because many of the assumptions were not based on factual data and most are no longer valid.
These historical resource estimates of reserves calculated on the Hopes Advance Main Zone by Paul should not be considered current mineral reserves. A more recent resource calculation has not been prepared on the Hopes Advance Main Zone because additional infill drilling and assaying in the zone are required to confirm the extent of the mineralization. Moreover, assay verifications of the core still available are necessary before any further resource calculation can be made by a qualified person in this area. The historical resource estimate is not being treated as current mineral resources or reserves.
The mineralization is present as disseminated and veined sulphides mostly in glomeroporphyritic gabbro. The glomeroporphyritic gabbro is uniform, massive and medium-grained, 60-80% of which is composed of greyish-white plagioclase glomerocrysts in a coarse-grained amphibole-rich matrix.
More important mineralization is often reported 10-20 m above the base as in drill hole HR 96-10 where grades 0.7-1.4% Cu and 0.2-1.5% Ni were reported over a total core length of 8.7 m. The composite assays show a consistent average grade of mineralization throughout the unit and averages 0.54% Cu and 0.20% Ni over 46.6 m (Figure 19).
A soil and rock chip survey carried out in 1989 on 332 samples reported three samples with more than 500 ppb Pt and six samples with more than 500 ppb Pt (see Table 11).
Rock samples from the porphyritic gabbro and surrounding rocks reported values of 0-180 ppb Au, 5-50 ppb Pt and 4-210 ppb Pd from 17 samples (Wares and Goutier, 1990).
In certain drill holes such as HR 96-20 the better mineralization occurs near the metasedimentary unit that has been hornfelsed where a composite grade of 0.51% Cu and 0.17% Ni were reported over about 51.7 m, true width.
Several of the drill holes in this section were not sampled to the bottom of the hole and additional mineralization could be identified in these sections.
Hopes Advance North Zone
Source: NI43-101 Technical Report for Hawk Ridge Project, Quebec -- April 30, 2012
The Hopes Advance North Zone is located 800 m north-northeast of the Hopes Advance Main Zone. The mineralized zone is underlain by folded and contorted porphyritic gabbro, gabbro, graphitic schist and peridotite in a structurally complex part of the property (Figure 20).
In 1962 Falconbridge and its joint venture partners drilled four holes for 600 m in this area. Extensive trenching in the early 1960s reported a composite grade of 6.34% Cu and 1.09% Ni over 17.3 m, not true thickness, in the massive sulphide section. In 1996 Troymin collared 26 drill holes into this region for a total of 3111 m and in 1997 an additional four holes were drilled for a total of 764 m.
Although structurally complex, the area appears to show a steeply plunging anticlinal structure. The massive sulphides occur in tabular bodies on the western limb of the structure that may be truncated. At Hopes Advance North copper- nickel mineralization is present as massive and disseminated sulphides in a zone about 70 m long that strikes north-northwest (Figure 20). Near the north end of the Hopes Advance North Zone graphitic schist and gabbro associated with peridotite that has been thrust from the east contain massive sulphides. Some of the grades include composite intervals of 6.81% Cu and 1.92% Ni over 3.0 m. and 1.24% Cu and 0.84% Ni over 3.95 m in HR 96-35.
In three drill hole fences along a new zone called the Hopes Advance Middle Zone Troymin intersected disseminated and massive sulphides extending about 200 m south of Hopes Advance North. In these three areas massive, stockwork and disseminated chalcopyrite and pyrrhotite mineralization are associated with graphitic schist and with porphyritic gabbro.
Eight sulphide-rich grab samples from gabbro and amphibolite associated with massive sulphide reported values of 140-400 ppb Pt and 120-910 ppb Pd from the area (Wares and Goutier, 1990). A grab sample containing massive chalcopyrite reported 4.4 g/t Pt and 11.3 g/t Pd. Two rock samples from gabbro
that reported 5-15% sulphides also contain 1.5 and 1.6 g/t Au but their exact coordinates are unknown.
Drill hole HR 96-03 reported 1.3 g/t Pd over 0.88 m at 37.17 m; 3.5 g/t Au over 1.2mat45.8m;1.0g/t Pt, 2.8 g/t Pd, and 2.1 g/t Au over 1.0 m at 71.05 m; and 1.1 g/t Pd over 5.0 m at 78.0-83.0 m. The intervals reported are probably not true thicknesses because complex structural environment in this area. No other section of core from Hopes Advance North was analyzed for PGEs (Figure 20) (Beauchamp, 2001).
In a fence of three drill holes about 245 m south of the Hopes Advance North a zone of massive sulphides was intersected in two drill holes. In drill hole HR 96-32 the interval of massive sulphides started at bedrock where a composite value of 1.87% Cu and 0.74% Ni were reported over an interval of 4.0 metres, true thickness (Figure 22). The first interval of this composite reported 1.18% Cu and 2.0% Ni over 1 m.
Collared to test the down-dip extension of HR 96-32, drill hole HR 97-112 intersected 2.45% Cu and 0.39% Ni over 3.5 m, true thickness, with values of 0.55% Cu and 5.0% Ni over 0.5 m. Drill Hole HR 97-114 drilled further down-dip intersected only disseminated mineralization of 0.21-0.81% Cu and 0.09-0.37 averaging 0.50% Cu and 0.19% Ni over 24.0 m, not true thickness.
The style of mineralization is very similar to that of Pio Lake further south on the property. The massive sulphides with high copper and modest nickel, but high PGE are similar to those of the East Lens where they have been compared to hydrothermal mineralization, and the massive sulphide intervals with high copper and nickel resemble the West Lens, which may be magmatic mineralization. None of the core with high nickel values was assayed for PGEs.